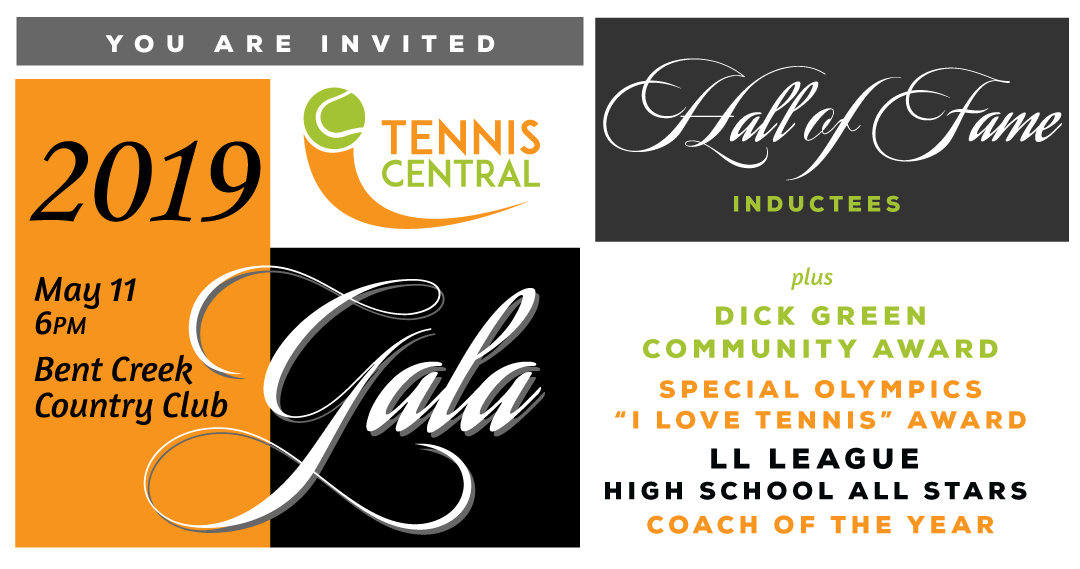 Every year, Tennis Central honors the accomplishments of outstanding tennis players in Lancaster County.
The 2019 Tennis Central Gala and Lancaster County Tennis Hall of Fame.
Along with the Hall of Fame inductees, the Richard T. Green Community Tennis & Service Award, the Dr. Jill E. Hungerford Scholarship, the Dr. Charles R. Appel Scholarship and the Special Olympic "I Love Tennis Award"  are also presented. The community is welcome to participate in this annual banquet and celebrate the induction of these tennis players with us.


2019 Inductees:
Joe Altman
Pam Kaylor
Jeffrey Martini
Dr. Jill E. Hungerford Scholarship Award:
Amanda Hagino, Hempfield High School
Richard T. Green Community Service Award
Mr. Jim Phipps
 Dr. Charles R. Appel Scholarship Award:
TBD
Special Olympic "I Love Tennis" Award
TBD
Selection Committee:
Earle Cornelius, Don Royer, Dale Gregg, Wes Kintner
THIRD ANNUAL GALA
& 19th Annual Lancaster County
Tennis Hall of Fame
Recognition Dinner
Saturday, May 11, 2019
Cocktails are 6-6:30pm
Dinner and Ceremony 6:30-9:00
Bent Creek Country Club
620 Bent Creek Drive
Lititz, Pennsylvania
Presented by Tennis Central


For questions and more information contact:
Delaine Mast at dmast@TennisCentral.org